ANYTHING IS EVERYTHING
EVERYTHING IS NOTHING
NOTHING IS EVERYTHING
by Stephen Lau


This newly published book is about the miracle of living.
"Anything" may be "everything" to
you
, but not to
others
, and vice-versa. That may explain the some of the difficulties in human relationships. Life is difficult because it is all about
you
, and not about others. Let go of "anything is everything" to you if you focus more on
others
as well.
"Everything is nothing" is a universal truth: nothing lasts, no matter how we wish they were permanent. Many of us are reluctant to accept this universal truth of the impermanence of all things in this world.
"Nothing is everything" is
enlightenment
of the human mind, which is profound understanding of the ultimate truths of self, of others, and of the world around.
This 100-page book explains with many real-life examples to illustrate the perceptions of "anything is everything", "everything is nothing", and "nothing is everything"-based on the ancient Chinese wisdom of Lao Tzu, the ancient sage from China more than 2,600 years ago, and the Biblical wisdom.
Get this profound wisdom to live your life as if everything is a miracle.
Knowing and understanding the truths of anything and everything may enlighten you so that you intuit the ultimate truth that everything is actually nothing, but this
nothingness
is paradoxically your only pathway to
everything
in your life.e
Click
here
to get your book.
Below is the outline of the book, see if the contents appeal to you:
CONTENTS

INTRODUCTION

ONE
:
ANYTHING IS EVERYTHING

The Meanings and the Interpretations
A Frog in a Well
Human Wisdom and Spiritual Wisdom
Oneness with All Life
Love and Forgiveness
Gratitude and Generosity
Sympathy and Empathy
Compassion and Loving Kindness

TWO: EVERYTHING IS NOTHING

Understanding Is Everything
The Mind and the Ego
Attachments and Illusions
Control and Power
Detachment and Letting Go
Impermanence and Emptiness

THREE: NOTHING IS EVERYTHING

The Paradox
The Way
The Miracle
The Enlightenment

APPENDIX A:
TAO TE CHING
APPENDIX B:
MINDFULNESS
APPENDIX C:
MEDITATION
APPENDIX D:
WORDS OF WISDOM
APPENDIX E:
ABOUT THE AUTHOR
Click
here
to get your digital or paperback copy. ANYTHING IS EVERYTHING

What is meant by "anything is everything"? It may have different meanings and different interpretations to different individuals.
First of all, human perceptions are subjective and individualized: they are affected not only by the five senses, but also by the unique experiences of an individual, as well as by the indelible memories of those experiences retained in the mind of that individual. Therefore, what is important to
you
may not be as important to
others
, and vice-versa. For this reason,
anything
could be
everything
to you, but not to others.

An illustration


Near the end of 2016, a road rage occurred in Arkansas that ended in the tragic death of a 3-year-old child.
A woman, with her 3-year-old grandson sitting at the back of her car, stopped at a stop sign. A man in the car right behind honked her for not starting her car immediately, but the woman honked back; thus the road rage began with the man firing a gun shot at the back of the woman's car.
Stopping too long at a stop sign, or wanting to get to a place on time might be
everything
to the man. Having the right to remain where she was might also be
everything
to the woman, so she naturally honked back.
Unfortunately, that anything-is-everything incident ended in tragedy-the death of the woman's three-year-old grandson being shot dead while sitting at the back of her car.
In real life,
anything
could be
everything
to real people-it all depends on their respective perspectives of
anything is everything
.
Stephen Lau
Copyright© by Stephen Lau
Click
here
to get your book. EVERYTHING IS NOTHING

Reality of impermanence


Impermanence is an inescapable fact of all human existence, clearly evidenced in the process of falling sick, growing old, and dying in all humans, as well as in the process of decaying of all things perishable and the passing away of anything liable to pass. There are no exceptions, and that is the indisputable fact of impermanence of anything and everything.

Perspectives of impermanence


According to
Buddha
, life is like a river. The water flowing in a river is like a progressive and a successive series of different but unified movements of water, all joining together to create the impression of only one continuous flow of water. Likewise, human existence is moment to moment, with each moment leading to the next. It is also an illusion that the person in this moment is the same person in the next moment; just as the river of yesterday is not quite the same as the river of today. To think otherwise is human illusion.
Even from a scientific point of view, Buddha's perspective is true. We know that cell divisions take place in each living being continuously: old cells in our bodies die and are continuously replaced by new ones. Technically speaking, all individuals are constantly subject to change, and the change is a continuous movement, just like the flowing water in a river.

Essence of change

The Creator has created for us a world of constant changes: everything is changing with every moment, remaining only with that very moment, and nothing remains permanent. It is through changes that we may transform ourselves into a better individual. Even in a difficult and challenging environment, we may learn from our mistakes and wrong choices in life, and so change ourselves. Change is transformation, which is educational and self-enlightening. Transformation is synonymous with impermanence, which is the essence of change.
Understanding that anything and everything is impermanent is already self-awakening. Nothing is permanent: the good as well as the bad things that happen to us are impermanent; nothing lasts forever. We all are aware of this universal truth of impermanence. We all know that we cannot live to well beyond one hundred years, and yet we resist our aging process, continuously fixing our faces and bodies to make them look younger. We may have the face of a forty-year-old but the body and the mind of a seventy-year-old. We simply refuse to let go of the impermanence of all things; we desperately and self-delusively cling on to the "permanence" of all our attachments.
Stephen Lau
Copyright© by Stephen Lau
Click
here
to get your book.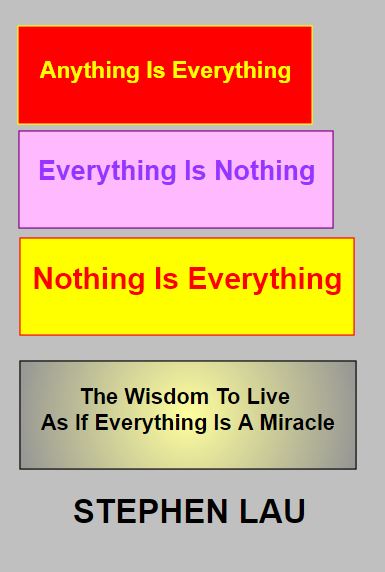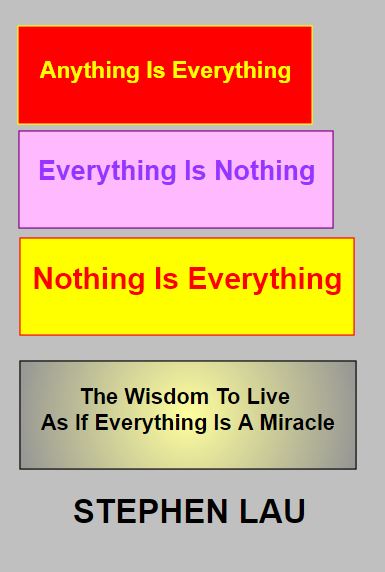 NOTHING IS EVERYTHING

"Nothing Is Everything" Is Enlightenment


Enlightenment is an endless process of
knowing
and
understanding
anything and everything that is simply there and is available to all since the beginning of time. It is like knowing that at sunrise you will see sunlight as long as you open your eyes; its presence is
permanent
-but you just have to
open
your eyes to see its presence, and even the blind can just
feel
the presence of the sunlight.

Li Ching-Yuan
, a Chinese herbalist, martial artist, and tactical advisor, known for his extreme longevity of well over 200 years-which far exceeded the longest confirmed lifespan of 122 years of a French woman-gave his profound wisdom on enlightenment:
Before I had studied Zen for thirty years,
I saw mountains as mountains,
and waters as waters.
When I arrived with a more intimate knowledge,
I saw that mountains are not mountains,
and waters are not waters.
But now that I have got its very substance,
I am at rest.
For it is just that I see mountains once again as mountains, and waters once again as waters.
(
Li Ching-Yuan
)
Enlightenment is
effortless
and
spontaneous
. So, if you strive to know and understand anything and everything, the enlightenment may never come. But that does not matter because you may
already
have the wisdom to
see
that "mountains are
not
mountains, and waters are
not
waters."
The truth of the matter is that your mental capability to see "mountains once again as mountains, and waters once again as waters"-which is the
enlightenment
itself-may or may not come to you now or even for the rest of your life. Enlightenment may still be important to you, but not
that
important. After all, many of us may all pass through life with some wisdom but without really attaining our self-enlightenment. Having said that, it is important that at least you see "mountains are
not
mountains, and waters are
not
waters"-which is already profound human wisdom.
Yes, illusion and delusion may go on indefinitely, but enlightenment may take only a moment. It is the very moment of consciousness without being self-conscious.
The realization that nothing is in fact everything gives you freedom and liberation from all your previous attachments. Letting go to let God is self-enlightenment. Returning to dust is actually the only pathway to
everything
; physical death is just a way station on the road to eternity, and that nothingness ultimately becomes
everything
in the life to come.
Stephen Lau
Copyright© by Stephen Lau
Click
here
to get your book.